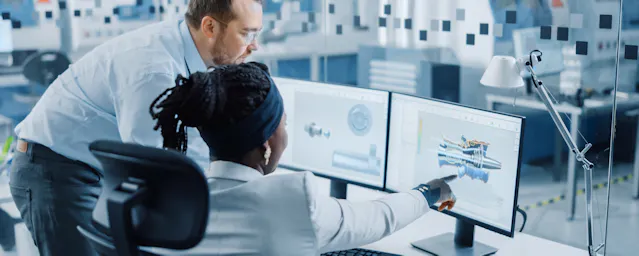 CPQ
Configure products and create quotes
Ideal for companies with complex products, branched pricing structures and demanding customers
Configuring products, determining prices, and creating quotations – these are all labor-intensive and time-consuming processes. SAP CPQ enables you to make these processes more efficient and offer your customers better shopping experiences. And this applies to both: classic sales and e-commerce.
SAP CPQ – Your innovative sales hero
Thanks to CPQ you create individual and customized product offers tailored to the customer's needs – precisely and efficiently. In combination with the appropriate commerce, crm and service solutions, you thus unleash the entire performance spectrum of CPQ. Automate and accelerate sales processes company-wide and offer your customers a customer experience that delights.
CPQ in classic sales
In sales, CPQ supports employees in quickly creating error-free and reliable quotations for complex products. The configurator only allows product configurations that are valid and not mutually exclusive. The advantages: Sales staff do not need to have all the product features as well as their possible combinations in mind, and there is no need to coordinate with manufacturing. Overall, sales gains efficiency. This is because quotation management takes less time and the error rate is reduced.
CPQ in Commerce
By integrating the CPQ software into the Commerce systems, visitors to your online store can design complex products according to their own ideas. In the online store, even new customers can use Guided Selling to find the right configuration in a self-determined and convenient way. What happens next depends on the company and sales structures. Do customers receive prices and offers straight away, or do the entries end up as a preconfiguration in the sales department or with retail partners? Flexibility is one of the many strengths of CPQ. The solution supports a wide variety of sales processes in B2B sales.
Seamless ERP integration
CPQ obtains the required data it needs for product configuration and pricing directly from ERP. This means no data silos, no duplicate data maintenance and no additional administrative effort. Any templates for the models of complex products are defined in the ERP. As soon as data maintenance updates the ERP, CPQ gets access to the latest version. The whole thing takes place in ECC (LO-VC) or in S/4 HANA (LO-VC or AVC).
Configure, Price, Quote every second
CPQ stands for Configure, Price, Quote. Or from the user's point of view: configure, add to the shopping cart and check out. When set up correctly, the purchasing process really does work that simply. The complex processes run behind the scenes.
A solution that makes complicated simple
The entire performance spectrum of CPQ is unleashed through integration into the system landscape. The application scores particularly well in combination with a B2B online store or service portal. Product, price, production, customer and delivery data are thus elegantly brought together. CPQ takes contract agreements into account, generates offers, creates dynamic documents or forms and accelerates the entire sales process. How intensively you want to integrate CPQ into your processes is up to you. From product configuration to sales performance reporting and in-depth analysis, there are numerous options open to you. An absolute upgrade for the sales team and the customer experience.
CPQ advantages at a glance
Increased customer experience
Seamless integration with SAP and third-party vendors
Reach your goal faster with the right partner
We support you in the implementation of SAP CPQ and redesign the customer journey of your customers together with you.
Consulting
In good hands from the start
Innovations usually start with an idea. We know the numerous solutions and possibilities you can exploit in implementing your plans and share our expert knowledge with you. Together, we will find the right way to breathe life into your ideas.
Perspective
Plenty of room for innovation
Due to our extensive industry knowledge and multi-layered experience, we are able to discover new potential with an outside perspective. Together, we make processes more efficient - not only in the sales process.
Integration
Technically well positioned
We implement SAP CPQ and customize the application according to your requirements. In doing so, we make sure that all interfaces are in place and keep your IT and involved departments free.
Support
Full value creation in sight
Solutions are for people! That's why we stay on the ball and support your users even after the new solution has been introduced. We also ensure that your system continues to perform as expected.
DO YOU HAVE ANY QUESTIONS?
We are happy to help you!
You might also be interested in